Christmas Card SVG Files
free svg files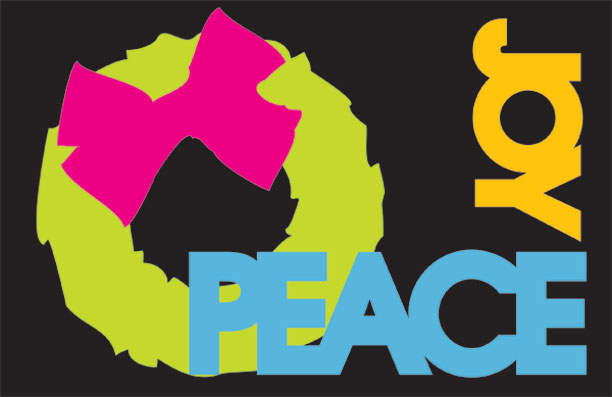 This Christmas card was designed so that it would be simple enough to cut and assemble in multiples. It took me about 3 hours to complete 20 cards, including the printing and attaching of the inside greeting. The SVG files provided are set up with multiple cuts of the same graphic, and are designed to fit on a small 6" x 12" cutting mat.
Cut as many wreaths as you need using bright green card stock, an equal quantity of bows using neon pink card stock, an equal quantity of the word "JOY" using neon orange card stock, and an equal quantity of the word "PEACE" using process blue card stock. Spray the backs of all pieces with spray glue. Use 8-1/2" x 11" black card stock folded in half for the base of the cards. Attach all of the wreaths first, then the bows and then the words "PEACE" and "JOY."
A PDF file of the inside greeting shown above is included with the SVG files. Print as many of the inside greeting as you need. If printing on 8-1/2" x 11" paper, you should cut 1/2" from all sides of the paper so that the inside greeting is 7-1/2" x 10".
Fold the inside greeting pages in half. Use a glue stick to put a small dot of glue on the back side of each of the top 2 corners of the inside greeting, and on the back top center below the fold. Carefully place the folded inside greeting into the folded outside card and press down to adhere the greeting to the inside of the card. Finished card will fit into a standard 5-3/4" x 8-3/4" greeting card envelope.