Winter Magic SVG Files
free svg files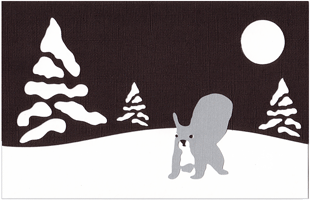 We've been having so much snow lately (and there's more on the way this evening) that I decided to make a card that shows the magical, simple beauty that can be found in nature after a snowfall...and I think that squirrels are cute and very entertaining!
This is the second version of this design – the first version was in a vertical format and had the squirrel's eyes and nose cut as separate pieces, which were so small that they were nearly impossible to work with. This redesign includes the eyes and nose in the cut pattern along with the black sky area, which makes the assembly of this card quite easy. The original design also included a shadow and footprints for the squirrel, and I might add those at some point in the future.
Use 8-1/2" x 11" white card stock folded in half. Cut the black sky and attach to white card stock. Cut the squirrel using gray card stock, and position so that the black eyes and mouth show through on the squirrel's face. Finished card will fit into a standard 5-3/4" x 8-3/4" greeting card envelope.